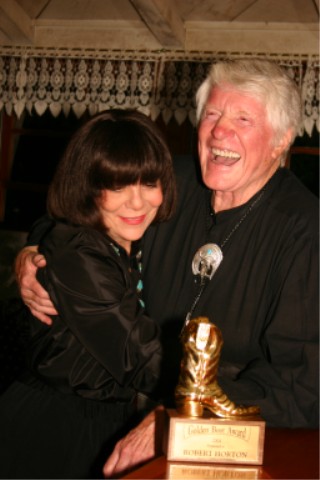 Saturday dawned bright and sunny, and after a slow start over coffee and conversation, we all went our separate ways in preparation for the big evening ahead. Marilynn had kindly arranged a hair and makeup appointment for me at a nearby salon, for which I am truly grateful!

Our party met at the Hortons' front door about 5:00 PM Saturday evening. Robert had thoughtfully decided to transport us all via limousine. Talk about feeling special! As we arrived at the Sheraton, the photographers were all out in full force, asking Robert to turn this way and that for a picture. He was waylaid countless times for autographs and even a short interview before he even got into the Sheraton.

The evening started with cocktails and a silent auction in one of the large banquet rooms. The auction, along with the sale of the tickets to the event, was to benefit the Motion Picture and Television Retirement Fund. While we were attending that, Robert was whisked away to the press room for more photos and interviews.

From there, we all proceeded into the main hall for the main event! Doing an excellent job as Master of Ceremony was Ben Cooper. The Flag was carried by Peter Brown, and the Invocation was given by Cheryl Rogers-Barnett. Personally, I was impressed simply to be in the same room with such legends as Sydney Poitier, Fess Parker, Mickey Rooney, and Tom Selleck (my lord, is that man TALL). It was a rather heady evening for a little gal from Vermont. Robert Osborne, the host of the Turner Classic Movies and the official biographer of the Academy Awards, presented Robert's Golden Boot. This long overdue award was the highlight of the evening!

An account of the night would not be complete without recounting our rather funny trip home. The driver was having a small problem with the limousine - he could not get the right rear door to close. After much fiddling and fussing, JR gallantly offered to hold the door closed for the trip back to the Hortons'! Bravo, JR! We did eventually arrive safely back at Robert and Marilynn's beautiful home. We all were feeling the adrenaline of the evening, and we retreated to the bar to discuss the events in minute detail. To say a fun night was had by all would undoubtedly be the understatement of the weekend!
Robert's Golden Boot Speech

Many thanks Bob O! Robert Osborne, one very fine fellow. Bob & I met at a small town in Illinois in 1968, a small town that boasted of an excellent regional theater. And they were equally proud of the industry the city was famous for: the Manure Capital of the World! Happily, the production we were involved with did not contribute to the city's reputation or its atmosphere.
The year 2004 has proven to be a very special year in my life, full of special celebrations: One, I will soon celebrate being married to my beloved Marilynn for 45 years of wedded bliss, well maybe it wasn't quite 45 years. Two, celebrating the final payment on our mortgage. George Montgomery built our house by the way, the scene of many happy years. Three, an ongoing celebration of my 80th birthday, which took place a week ago.
And now tonight, being honored with a Golden Boot, joining the special fraternity of actors that I have admired and with whom I have shared the screen for the 62 years I have been a member of the Screen Actors Guild.
However, more important than this trophy, is knowing that you are forever inscribed in Hollywood history: that your contribution has been recognized and recorded and is part of the legacy of western films, a legacy the Golden Boot Society is dedicated to preserve, and what a fantastic legacy it is. During the last few years, I have attended many western film festivals, and I have learned just how important that legacy is to the people of our country. And, what a meaningful and enduring 80th birthday present. I'm very proud, I'm fulfilled, and I have a wonderful sense of completion.
Thank you, and good night.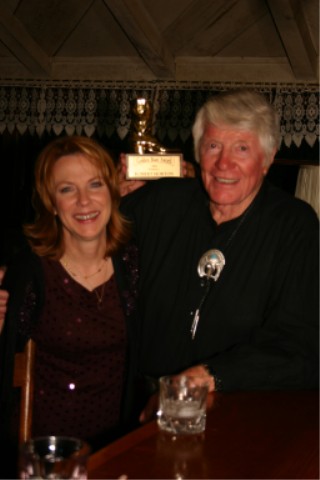 Virginia's Report
Whenever I think about the Golden Boot weekend, I start smiling. It was certainly a fun-filled weekend. The people are what made it fun. The key components were good interaction between Robert and the fans, good interaction between Marilynn and the fans, and good interaction among the fans.
Another plus about this weekend is that all the food was good. The hamburger dinner at the Sportsmen's Lodge Friday evening was ordinary: large group cookout food, good, but not extraordinary. Saturday breakfast at a western restaurant at Universal City Walk, the banquet Saturday evening, and the Sunday brunch at Café Bizou were all delicious.
Friday was spent traveling, checking into the hotel, meeting new fans, and attending the large mixer at the Sportsmen's Lodge. Robert made a point of sitting for a while with a table of us fans and saying hello to everyone. Back at the hotel, the fans gathered in one room and watched "The Sister Rita Story" and an Australian TV program made from Robert's night club act.
During the day Saturday, we separated into smaller groups. Jacque, Marcella, Patty, Patty's son Brian, and I walked down a steep hill and took the tram to the City Walk adjoining the Universal Studios theme park. We had a fine breakfast at a western themed restaurant and several of us "rode" the mechanical bull in front of the restaurant. (The restaurant employee helping us was emphatically told to NOT turn on the bucking mechanism.) I didn't have my camera with me, but someone has photos of the bull riding. Following the bull riding, we strolled down the City Walk, a tourist street of souvenir shops and places to eat.
When only Jacque and I were still in the city walk, I decided to have a caricature artist draw a caricature of me. (Alicia has a copy of this.) Then Jacque decided to have the same caricature artist, Eric, draw a caricature of Robert using the picture of Robert on my T-shirt as a basis. So, I was the model for Robert's portrait. (Yes, that is a bit of a stretch.)
After showering and changing to our "evening" clothes it was time for the banquet. This included fine food and good fellowship at the fan table. Robert was busy in his role as an award recipient. In his introduction of Robert, Bob Osborne discussed both Robert's work in westerns and his character. In particular, Bob Osborne said Robert could be counted on to give help and good advice in a crisis situation. Robert's acceptance speech was thoughtful and gracious. One of film clips shown in the segment introducing Robert was the scene from "The Jess Macabbee Story" where Flint tells each daughter why she is special. That scene is remarkably similar to some scenes of the real Robert interacting with his fans.
Besides checking out of the hotel and heading home, Sunday included lunch at the Café Bizou. This is my favorite part of the weekend, because this was a small group event enabling Robert and Marilynn to interact more with the Golden Boot Gang (or Horton's Harem, whatever we call ourselves.) We sat at two small tables, with Robert at one table and Marilynn at the other. Robert and Marilynn traded places midway through the meal so each of them could visit with every attendee.
I left the lunch earlier than other people to go to the airport and catch my flight home. I missed being in the group picture taken by Alicia's husband Doug. I also hear that I left shortly before the kissing began. That was poor timing on my part!!! (Since I wasn't there, see someone else's report for more details about the kissing.)
An item of concern is that this is the second recent fan gathering where someone has been taken to a hospital. Thankfully, both of these hospital stays were very short and with no major aftereffects. Another reminder that we should all enjoy each day, be kind to our neighbors, and remember to take care of ourselves.
I am already looking forward to another unknown future event where I will be able to interact with Robert and Marilynn, visit again with continuing friends, and meet more new friends.
Virginia
Patty's Report
Fellow fan Virginia gave a wonderful description of our weekend and she is a tough act to follow. However, since this was the first time I met Robert and I hope not the last, I don't think words can describe what I experienced. But duty calls, and here is my attempt to give my impressions.
My son and I flew in from Pittsburgh, and once we were comfortably settled in our hotel room, a flurry of phone calls were exchanged between my fellow Golden Boot Gang members. A few of us met and made arrangements for transportation to the pre-Boot party. Alinda and Cindy were fantastic taxi drivers and we thank them for being such great intrepid scouts a la Flint. Since I had not met Robert, needless to say, I was an emotional wreck by the time we arrived at the Sportsmen's Lodge. Marcella provided much comic relief to settle my jitters. It did not help that Horton and Company were LATE, which further added to my anxiety. Once Robert entered the lobby, the gang was warmly greeted by Robert and Marilynn. I, on the other hand, shyly hung back from the group as I realized that the big moment was coming and I was about to meet my HOT MAN!! Robert made his way through introductions and finally turned to face me. I was greeted with a hearty welcome and the most beautiful smile. Wonder of wonders, a wave of serenity flowed over me, and I realized that this man easily had disarmed my fears. Robert was truly engaging, and he made me feel so comfortable. He even hummed a ditty from the musical 1776, in which he played John Adams and told me how he forgot words to a song, but the cast came to his rescue and then suddenly he recalled the words and the show went on. I couldn't believe that Robert was actually humming to me!
We proceeded to the pre-boot party outside and as Robert was engulfed by fellow Hollywood-types, we headed for the bar and food. Later, as we were having some great conversation, Robert came to sit with us. Again I was beside myself as I had totally not expected him to eat with us. That was a real surprise to me. He truly was interested in everyone, and he made a point to make us feel so special. He and Marcella had quite a discussion about gerunds and participles as she is the resident college English professor! At one point, Robert started to cough. I made the comment about hoping he would not need CPR as I would have flipped out and he said to me that I could use CPR on him anytime. I almost DIED!!!!
The gang later met In Jacque's room to have our Flint Fest. My son graciously lent his laptop so we could view "The Sister Rita Story." We had a great time.
Saturday some of us went to Universal City Walk to have a huge, western size breakfast and ride the mechanical bull. Well, ok, it was just a photo op, but had I not been bucked off a thoroughbred last August and needed surgery on my left shoulder, I just might have asked the waiter to rev up that bull, although Alicia did give me orders during one of our phone conversations to not DARE get on the bull!!!
Marcella, Virginia, Cindy, Alinda and I did get to relax by the pool in the afternoon before getting dressed for the evening's big event. At 5:30, the gang met with Alicia and Doug and went to the room where the Silent Auction was held. Robert was the only celebrity that I saw in the room, and he looked fantastic. He was whisked away to the press room and we eventually made our way to the ballroom.
Marcella was incredible, pointing out various celebrities, and I pegged her with the nickname "Hawkeye." She could not only pick out TV western stars but could also sing the theme songs to those great westerns.
When it was time for Robert to be presented for his award the girls decided to give him a standing ovation. Robert was the ONLY honoree to have a table of crazed women stand and cheer. Not even Val Kilmer got that kind of reception!
Marcella, Betty, and I got to see Robert after the awards, and then he had to leave as his limo was waiting.
Sunday was another beautiful day, and again our two taxi drivers, Alinda and Cindy took us to the Cafe Bizou. There we split into groups with Robert at one table and Marilynn at the other. I was on an adrenaline rush the whole weekend and just sitting with Robert was again a tremendous thrill, especially as this was a more intimate setting. I told Alicia that I would eat dog food just to be in the same room as Robert. But our meal was just great, although I confess to not eating much because of my excitement. Robert entertained us with great stories but I found myself becoming unhinged and I could not believe some of the things I asked him. He had to think I was nuts!
A dear friend of mine made me a "brunch purse" on which she had decoupaged pictures of Robert as Flint on a wooden oval purse. A few of the gals expressed a great interest in having one made. Robert took a good look at it and decided he was not fond of a few of the photos as they were studio shots taken before even one episode of Wagon Train was filmed. Yet, I asked him to autograph it and he kindly obliged. Marilynn was amused when she got a good look at it; I asked her if she wanted one made. She laughed and said no; after all she has the real deal at home.
We took a group picture outside and somehow I got another picture with Robert, but I don't even remember doing so as I was still on cloud nine. Robert was leaving to get his car, and I started to panic. I said in a rather loud voice "Hey! What about my hug and kiss?" I can't believe I said it, but Robert turned and all I remember was those beautiful Flint lips of his descending on me, and the rest is history. Alinda lined up next, and I honestly don't remember much after that as I was just so stunned that I received a kiss.
All in all, it was the most wonderful weekend that I'll never forget. I feel that I now have ten new sorority sisters because I felt so comfortable with everyone, and it was like I had known them all my life. They are all so sweet and kind. It's no wonder that Robert Horton has the ability to bring fantastic individuals from across the country together to share part of our lives with him and each other. I thank God for this unforgettable experience.
I told you it would be as long as a book but I just could not help myself.
Love,
Patty
BETTY'S REPORT

As most of the other ladies at the Golden Boot weekend know, (because I told them), I have had the deep pleasure and honor of knowing Bob and Marilynn for close to 40 wonderfully eventful years, beginning in 1966. It was then that I was given the marvelous opportunity of attending their musical, Brigadoon, at a theatre in West Covina, California.
After the show, Bob graciously granted my request for an interview for a proposed magazine article. Only a month later, I also attended their star-studded performance of Oklahoma at the Muni Opera House in St. Louis, MO. Three years later I had the privilege of attending another of their musicals, Kismet, at the Muni Opera House, where Marilynn and I met after the show, and they invited me to have dinner with them. This cemented our long-time friendship, which I have treasured close in my heart over these many years.
I was able to attend these performances because I was lucky enough to have a mother living in California and a dad in St. Louis at the times I visited them in '66. Also I had a wonderful husband who watched our kids when I made those trips. Through the years, Bob, Marilynn, and I saw each other several other times while I was in the Los Angeles area on business, when they so very kindly invited me to spend a couple of evenings with them in their lovely home and came to my hotels and took me to dinner and luncheons with them on numerous occasions.
The reason I wrote the above paragraphs is to explain that having known Bob so many years, when I learned that he was to receive the Golden Boot Award, I just had to attend that great occasion for him, which has been delayed for far too many years. In fact, one of those times we were together, I told Bob that I thoroughly believed that one day he would win an award for his long-time performances in movies, television, theatre, and nightclubs. and that when that day came, I would try to be there to watch him receive it. So since that award was forthcoming on the evening of August 7th, I had a great desire to keep my promise to share that evening with him.
When I asked my daughter, Laura, if she would like to go with me to the Award weekend, her reply was enthusiastic, saying, "I've heard about Robert Horton and Wagon Train since I was a little girl. Of course, I would love to go and meet him and his wife after all this time." So after visiting my son and wife in Seattle and sister and family in San Diego, Laura and I arrived at the Sheraton Universal Hotel on August 6th just in time to attend the Pre-Boot party that evening.
I'll have to say that 'It Was A Lovely Way To Spend An Evening' for me since it just happened to be my 78th birthday. We were delighted to meet other ladies who had traveled from other areas of the U.S. and California, which made our stay at the hotel and get-togethers, as a group, and with Bob and Marilynn especially fun and exciting. Laura and I made so many friends over the weekend, all of whom we will always remember and keep in touch.
Since other ladies have already written their reports of this marvelous weekend, I won't repeat what they have said in great description, except to say that being in attendance on Bob's Award night was a dream come true for me, and being with him and Marilynn at the Pre-Boot Party and at the Brunch gave all of us the opportunity to have chats with both of them when they exchanged places at the two tables, which I thought was a great idea, so everyone was able to have one-on-one talks with them. Through their gracious patience, all of us were also able to snap some great pictures during and after the meal.
Praises and deep appreciation must go to Alicia Williams, who has created the fabulous website for Bob on the Internet, and who was instrumental in arranging and providing for the ladies' marvelous opportunity to visit with Bob and Marilynn (some for the very first time) and for seeing to it that we all had such a great time together over the never-to-be forgotten weekend.
Betty
Marcella's Journal
On occasion, I can be struck speechless. My recent weekend in Los Angeles, however, is NOT one of those occasions!
By way of preamble, the first six months of this year were rather rough for me. Alicia knew this and campaigned (read practically bullied) for me to attend the Golden Boot Awards. I admit that, once I agreed to be there, the thought of the Golden Boot weekend quite literally shimmered invitingly through a job change, a new location, and the upheaval of trying to buy a house. It was indeed a wonderful incentive to keep on.
By the time I arrived at the Sheraton Universal on Friday, I was tired (up at 3:30 AM to catch a 6:00 AM flight) and ravenous (airlines no longer feel the need to feed their passengers!). Once in the room I was to share with Virginia, I ordered room service. And promptly had heart failure at the cost! No matter. I would have eaten anything if it had stood still long enough! The meal, a brief rest, and a shower refreshed me, and it was off to meet the girls in the hotel lobby. Okay, okay. It was off to meet, for the first time, the man I've adored since I was 10 years old – Robert Horton!
Patty kept saying how nervous she was. I was amazingly calm and told her that I found myself quite equal to the occasion. I have no idea why I was so at ease. Perhaps I unconsciously applied my mantra since my birthday last year: "I'm old enough to know better and just too durned old to care anymore."
Alicia kindly did the honors. When Robert walked into the lobby of the Lodge, she introduced us: "Robert, this is Marcella." And it seemed quite the natural thing to pull him in for a hug and kiss. (Ha-ha-ha-ha-ha, I beat you to it, Patty!) I had dreamed of this moment for 45 years, but the reality was better!
When we moved into the pool area, Patty said, "Okay, show me somebody famous." I said, "Peter Brown, dead ahead on the right," my first of many sightings, earning me the nickname "Hawkeye." As I was still hungry, I moved straight to the buffet. Huge burgers with all the fixin's, southwestern corn, baked beans, and a quite good slaw. I sat at table with Randy and had a pleasant conversation with her, meeting William Smith and his wife Jan. Others of the Harem drifted over, and then came Robert himself.
I now confess to a bit of shameless, self-serving maneuvering. My return flight on Sunday left at noon, so I would miss the brunch. I admit to muscling Patty aside so I could sit next to Robert! (Patty kindly accepted my apology on Saturday.)
Oh, how I enjoyed that chat! To Alicia, Robert refers to me as "the smart one" or "professor." We got tickled, admitting what awful students we were in freshman comp (I got C's). The conversation moved easily around the table, with lots of fun and laughter.
At one point, I looked at Robert and smiled. He smiled back (Oh, Flint!), then he raised his hand and patted my cheek. Well, it was too good to pass up. I held his hand against my cheek, laid my head on his shoulder, and said, "Flint touched my cheek!" Amid the hoots of laughter that followed, Patty asked, "Which one?" Robert swatted me on the butt and said, "That one!"
"The Sister Rita Story" was wonderful, as was the nightclub act (on loan for the evening to the Golden Group only). I'd often told Alicia that Robert could sing me to sleep anytime, and at last he did (aided by my being up for 24 hours straight)! What a rich and wonderful voice!
Saturday morning, Jacque, Virginia, Patty and her son Brian, and I went to breakfast. Our waiters were adorable and took good care of us. Patty asked them to forgive me for calling them "darlin'" and "honey" (I'm a Southern girl, so I know everybody's name—"honey," "darlin'," "sugar"), but they loved it. One warned us: If we didn't clean our plates, he'd make us ride the bull. Since the portions were easily large enough for an army, we all failed! He found a gauche-looking, zebra-striped cowboy hat, inflated the mat, and I went first, followed by Patty and Virginia. Be it known: He was under pain of death if he started that thing moving! (A stroll through City Walk followed, with yet another photo op for me. I stepped into the "headless Raider" outside the Silver and Black shop. It wasn't my Tennessee Titans honey, Frank Wycheck (#89), but, ya know…..)
At the Golden Boot Awards. "Hawkeye" resurfaced, spotting Bruce Boxleitner, Peter Mark Richman and his wife Helen, William Sanderson, Mickey Rooney, Pat Hingle, et al, before dinner. Dinner was one impression after another. Singing the Wyatt Earp theme to Hugh O'Brien. Presentation of the colors by Peter Brown and the Buffalo Soldiers. An emotional tribute to President Reagan. Being called a liar by Val Kilmer (I do too know what a huckleberry is!). Scott Glenn's moving "Semper Fi" to our men and women in Iraq and Afghanistan. Spotting Tom Selleck on stage before Patty did. Getting Bruce Boxleitner's autograph for my mother (a gift for her 82nd birthday on 8/23). Giving Robert a much deserved, long overdue, well earned standing ovation as he accepted his award. A flurry of last minute hugs and goodbyes. What a night!
Fond farewells to Randy and Bev, Patty and Brian, Jacque, Betty and her daughter Laura, Alinda, and Cindy. Next morning, Virginia and I said our goodbyes as we checked out. A very LONG and tiring flight back to Memphis (add to that last intense jealousy for everyone else being at the brunch).
Thanks to Alicia for getting us all together. To Randy for arranging the fan table. And to the Golden Boot committee for giving us a lovely excuse to honor our favorite cowboy, Mr. Robert Horton.
Affectionately yours,
Marcella ("Hawkeye")