Career Highlights and Tributes
---
Every career has its "highpoints," those memorable moments that standout in your mind throughout your life. Mr. Horton's career had many, but the most meaningful for him were:
The Royal Command Performance for Queen Elizabeth II (19 May 1960)
On December 27, 1959, Bob was invited to perform at the world famous London Palladium. He was such an overwhelming success that in May of 1960, he was invited back to England to perform for the Queen in a Royal Command Performance at the Victoria Palace Theater, an honor accorded few Americans at the time. The song he chose to sing for her Majesty started out as an English sea chanty, but it is now known as an American folk song, the lovely ballad, "Shenandoah."
Patience is a virtue, and you will be rewarded for your patience by waiting until the entire page is downloaded!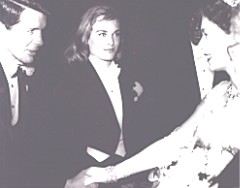 Being honored on "This is Your Life": Robert Horton (18 Jan 1961)
"This is Your Life" was an extremely popular live television show that was broadcast from 1952 through 1961. Hosted by Ralph Edwards, the show would surprise an unsuspecting guest in their home and invite them back to the studio for a biography of their life. As Edwards would read the story of the guest's life from a large book, which was later presented to the guest of honor, a voice from off-stage would pick up the story and the celebrity guest would try to identify the mystery person. Family members, old friends, former co-stars or past teachers would then appear and share heartwarming stories of the guest with the audience. Mr. Horton's biographical stories came from his parents, his nurse Mary, old high school and college friends, and network executives and producers. He was presented not only with the script of the show, but also a taped copy of the episode, a movie camera and projector, an antique model ship and an 1846 map of the overland trail. Mrs. Horton, who helped conspire to surprise Bob, was given a beautiful gold charm bracelet with charms depicting the shows they had appeared in together.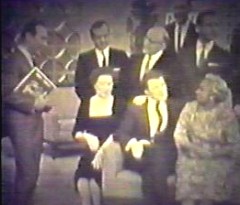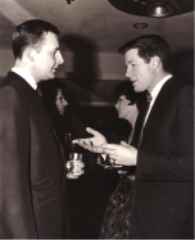 His first solo flight across the United States, while still a student pilot
Bob said that he learned more about flying in the three days it took him to cross the country by himself than he would have otherwise learned in a year. "Everything that could go wrong, just about, did go wrong on that flight. At one point I lost my radio, I lost my navigation and had to fly by dead reckoning. After all of that nothing really bothered me while flying."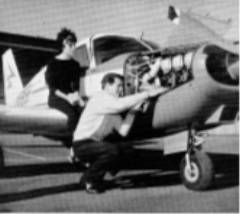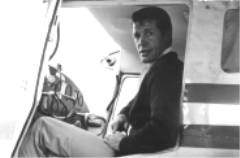 Bob, working on his beloved Piper Comanche 250, while his navigator, Marilynn looks on.
Receiving the Lifetime Achievement Award at the Sonora Western Festival (1994)
Lifetime Achievement Award presented to Robert Horton, at the Western Festival in Sonora, CA, 1994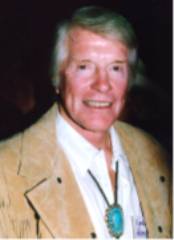 The following poems were written for the occasion: