The Movies
---
"The Movies"
Mr. Horton's movie career has spanned four decades, from the 1950's to the 1980's. While primarily involved with television and the theater during the 1960's and '70's, occasionally he took time out of his busy schedule to make a movie, and during his early career, he made many movies, most of which he claims he'd "rather forget." The "studio system" of bringing young actors and actresses up through the ranks was still very much alive during the early 1950's and many of his early roles were essentially "training" roles, for bigger and better parts.
Movies:

Red River (1988 remake for TV)

Foreign Exchange (1970, British)

The Spy Killer (1969, British)

The Dangerous Days of Kiowa Jones (1966)

Men of the Fighting Lady (1954)

The Story of Three Loves (1953)

Return of the Texan (1952)

The Tanks Are Coming (1951)

A Walk in the Sun 1945
The Tanks Are Coming 1951
Return of the Texan 1952
Many of Mr. Horton's very earliest movies were simply "walk-ons" with little or no dialogue, but he got to watch and learn from such stars as Dana Andrews, Richard Conte, Sterling Holloway, John Ireland, and Lloyd Bridges, in A Walk in the Sun, and Walter Brennan in Return of the Texan.
| | | |
| --- | --- | --- |
| | | |
| Pony Soldier 1952 | Apache War Smoke 1952 | Code Two 1953 |
One of Mr. Horton's first major movie roles was The Pony Soldier in 1952, with the much acclaimed Tyrone Power, where he actually played the "bad" guy. Also in 1952, he played a cowboy in Apache War Smoke, pictured above with Patricia Tiernan. In Code Two, in 1953, he was a police officer in the motorcycle squad, which might have convinced him that horses were much safer than motorcycles.
| | | |
| --- | --- | --- |
| | | |
| Bright Road 1953 | The Story of Three Loves 1953 | Arena 1954 |
Bright Road in 1953, with the renowned Dorothy Dandridge, cast Bob as a doctor, a real life role his family very much wanted him to pursue. The Story of Three Loves, also in 1953, was a film about a trio of bittersweet romances aboard an ocean liner. The following year saw him back on horses, as a rodeo rider in Arena, with Gig Young and Polly Bergen.
| | | |
| --- | --- | --- |
| | | |
| Prisoner of War 1954 | Men of the Fighting Lady 1954 | The Man is Armed 1956 |
Also in 1954, he played a Prisoner of War, with Ronald Reagan, in a movie about the brutal conditions of the North Korean POW camps.
JUNE 12, 2004: Of course we were all saddened by the passing of former President Reagan this week and I asked Robert to share some stories of him with us. Robert and "Ronnie" had appeared together in a film, Prisoner of War, about the Korean War. Robert said that Reagan was exactly as he appeared, always cheerful, always polite, and always trying to involve him in politics! He said that years later, when Reagan was the Governor of California, he and Marilynn were scheduled to perform in Man of LaManche in Sacramento. They received the nicest note from Reagan, apologizing that he and Nancy wouldn't be able to attend the performance since they would be out of town, but he wished them well and said he knew they'd give a great performance. It was typical of the man to take time out if his busy schedule to write a note to an acquaintance from long ago.
Prisoner of War" was followed by Men of the Fighting Lady, with Van Johnson and Walter Pidgeon, another Korean War movie. This time Bob was a fighter pilot, sporting a mustache no less. In 1956, Bob again played a doctor in The Man is Armed.
| | | |
| --- | --- | --- |
| Kiowa Jones 1966 | Kiowa Jones 1966 | Kiowa Jones 1966 |
During the next ten years, Mr. Horton was most recognizable as Flint McCullough on Wagon Train and Shenandoah in A Man Called Shenandoah. He also launched his very successful theater career and starred on Broadway in 110 in the Shade. By 1966, he was back in the movies, and westerns, as Kiowa Jones, a gentle cowboy who is deputized by a dying U.S. Marshall to take two convicted killers into a nearby fort to be hanged. While advertised as an action-packed western, which it is, this movie also explores the emotions of an average person in an "un-average" situation, where he is forced to kill to protect his prisoners.
| | | |
| --- | --- | --- |
| | | |
| The Green Slime 1969 | But oh, HIS gorgeous red hair! | The cookie monster from Green Slime |
The Green Slime made in Japan in 1969, was, in Mr. Horton's own words, "So bad it's actually become a cult film. The monster was so ridiculous I even have a picture of me feeding 'it' a cookie!" It did, however, provide an opportunity for Bob and his wife to spend eight weeks in Japan, not bad work if you can get it!
| | | |
| --- | --- | --- |
| | | |
| The Spy Killer 1969 | Spy Killer | Undercover in Foreign Exchange 1970 |
Bob's British fans have been among his most loyal, even today, and 1969 and 1970 enabled him to spend some time in England while filming The Spy Killer (1969) and its sequel, Foreign Exchange (1970). In both, Bob played an ex-secret agent, trying to make a living as a Private Investigator, along with his girlfriend (Jill St. John), while his former boss (Sebastian Cabot) manipulates him back into "the business." Both are extremely well done spy thrillers with twists and turns of plots that demand your attention. His last film, to date, was a TV remake of Red River, in 1988.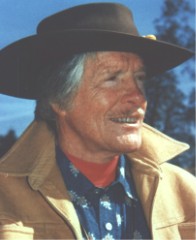 "Red River" 1988
---